Civil/Environmental Eng
Remediation/Spill Response
Planning/Permitting
Biological Sciences
Water Resources
Project/Construction Management
Fire Island Wind Energy Project »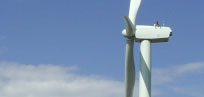 RSE scientists worked closely with Fire Island Wind personnel to plan, permit and develop this 56 megawatt renewable energy project near Anchorage.
This complex multiple phase project included three major components of on island facilities, a submarine and cross town power transmission line and construction of a new VOR navigational aid for FAA at the Anchorage International Airport. Project planning included scoping and obtaining all require project permits including Coastal zone, wetlands USACOE section 404, US Fish and Wildlife Service Eagle take permits.
RSE prepared project constraints mapping, managed multiple tiers of project technical subcontractors including radar specialists, FAA navigational aid consultants, geotechnical investigations, raptor surveys, beluga surveys, groundwater well installation contractors, tree clearing and road construction contractors.
RSE prepared stormwater pollution prevention plans (SWPPP), spill prevention control and countermeasure plans (SPCC), safety and communication plans in support of client hired contractor efforts.
RSE coordinated project survey efforts on island and the mainland to support turbine, transmission line, and VOR design and construction efforts. RSE oversaw establishment or project communications and managed air logistics for seasonal work crews.
RSE further assisted our client in developing the scope and design package for hire of an Engineer Procure Construct team to continue with project build out. Project duties included preparation of engineering estimates for project elements, contract and construction management services, and managing weekly meetings with project team members and assignation of resources to complete project tasks.
Other Planning & Permitting Projects »