Projects :
Civil & Environmental Engineering
Civil/Environmental Eng
Remediation/Spill Response
Planning/Permitting
Biological Sciences
Water Resources
Project/Construction Management
Anchorage International Airport VOR Construction Project »
RSE prepared engineering plans and specifications for construction of a new Very High Frequency Omni-Directional Radio (VOR) navigational aid at the Anchorage International Airport (ANC).
RSE worked with nationally recognized experts to coordinate the VOR mitigation study that resulted in VOR site acceptance by the Federal Aviation Administration (FAA) and airport personnel. RSE prepared phase I and Phase II Environmental Site Assessment investigation documents to meet ANC leasing requirements. RSE conducted civil design and contracted with geotechnical, mechanical, electrical and structural design professionals to prepare the construction bid package. RSE also served as the owners representative in awarding the construction contract and providing project estimate and management services throughout the project construction which is currently underway.
Water and Wastewater Treatment Services »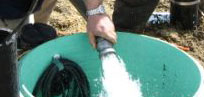 RSE provides water and wastewater treatment services for rural, urban and industrial facilities in arctic and subarctic design environments.
Our staff specializes in both domestic wastewater and industrial process water treatment and disposal systems. RSE also frequently works with private and public clients to design long-term reliable solutions for potable water supply. RSE engineering designs are efficient and robust to meet challenging site and environmental constraints with high system reliability and low maintenance costs a key focus. RSE prepares plans and specifications for construction bidding along with providing project management during construction. Project timelines are met by stewarding project designs through permitting reviews by the Alaska Department of Environmental Conservation (ADEC), EPA, and other State Agencies. RSE customers include Southwest Region School District, Chugach Electric Association, Homer Electric Association along with private developments such as Stream Hill Park in Homer, Alaska.
Stream Hill Park Water and Sewer Systems Phase I -East End Road, Homer »
RSE prepared roadway, water and wastewater design for a "green" subdivision development in Homer, Alaska. RSE provided engineering plans for the construction of subdivision water and wastewater utilities along with road and drainage systems. Design included the use of a clustered housing approach leaving large tracts of undisturbed "green space" intended to provide for recreation for homeowners as well as preserving the stunning natural surroundings at this south facing location. RSE coordinated utility design plan approval with both the City of Homer Public Works Department and the ADEC to obtain permission to construct in a very short time frame to meet accelerated project schedules. RSE conducted hydrologic analyses of various local drainages which traversed the subdivision property to verify carrying capacity for design storm events and to evaluate possible restoration of a seasonally intermittent stream to its historic channel prior to past relocation efforts by an area homesteader.