Projects :
Project/Construction Management
Civil/Environmental Eng
Remediation/Spill Response
Planning/Permitting
Biological Sciences
Water Resources
Project/Construction Management
VC Sellers Environmental Remediation »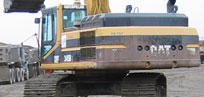 RSE designed and managed this 18 million remediation project that extended over a three year period to address historic contamination in Fairbanks and Deadhorse, Alaska.
RSE developed project design, obtained all required permits, and contracted with AIC for on-site construction services and soil treatment services. RSE used site assessment data to plan and execute the remediation project in a manner that allowed CH2MHill to operate normal activities with minimal disruption. RSE prepared and updated project cost estimates, performed daily reporting and on site liaison with CH2MHill personnel, provided construction inspection of backfilling operations, and coordinated materials sources to meet pad specifications.
Anchorage International Airport VOR Construction Project »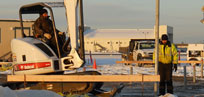 RSE developed the restoration design and Corps permit application for construction of a backwater alcove habitat to provide refuge for juvenile salmon in this small urban stream in Anchorage, Alaska.
Pat Athey of RSE initiated the project by working closely with the US Fish and Wildlife Service and Anchorage Waterways Council (AWC) to establish restoration objectives and a conceptual design for the alcove. As well, Mr. Athey prepared a wetland delineation of the property, coordinated with the Corps of Engineers and Municipality on permitting the project, and designed the vegetation plantings. Dave Nyman of RSE prepared detailed design drawings that were used for the excavation and plantings of native vegetation. RSE donated a significant portion of the work as volunteer labor to ensure this project could be completed within the limited budget available to the non-profit AWC.
Other Project/Construction Management Projects »